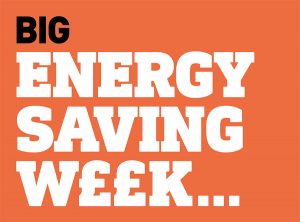 January 20th 2020 is the first day of Big Energy Saving Week (BESW); a national campaign to promote getting a better deal on your energy bills through switching your supplier or your tariff to a cheaper deal.
 As in previous years, this campaign is a partnership between Citizens Advice, CA Scotland, the Department for Business, Energy and Industrial Strategy, and numerous other organisations.
The message being delivered is a simple one – unless you switched your energy supplier or your tariff in the last 12 months, you can probably save money on your energy bills.  All you have to do is check you are on the best deal, switch to a cheaper supplier or tariff, and save energy and money: 'check, switch, save'.
Here are some numbers worth noting:
Currently, 11% of households in England are in fuel poverty. This figure is more for Coventry.
One in five customers living in private rented households in England are in fuel poverty; higher than for any other type of household and twice the national average.
One in ten prepayment meter customers 'self-disconnect' from their electricity or gas supply because they cannot top-up their meters when they need to.
Customers in vulnerable circumstances continue to be the most likely to be paying over the odds for their energy, leaving them more vulnerable to the health consequences of 'cold homes'.
Older people, people on low incomes and people who are not confident on the internet are less likely to shop around and are more likely to be on the most expensive rates.
34% of energy customers have never switched supplier.Switching is easier than ever before.

All suppliers should now offer consumers clear and personalised information, including:

regular updates on the cheapest available tariff
providing tariff information labels (similar to food labels) to make comparisons easier
advance warning of any price increases or contract changes that would disadvantage a consumer
consumers on a fixed-term deal will receive a notice 42–49 days before the end date, to remind them the tariff is coming to an end. If they switch after this point, suppliers can't charge a termination fee.

Some energy suppliers are signed up to the Energy Switch Guarantee. This ensures energy switching is completed in just 21 days. At the time of writing, 24 suppliers were signed up to it. Check which ones at energyswitchguarantee.com.

The guarantee ensures:

consumers can continue using their existing energy supplier until they switch
in the event of a problem occurring, the consumer's new supplier should make sure the issue is resolved swiftly and efficiently
the consumer can change their mind within 14 days of the switch and return to their previous supplier, and
any credit from their old energy account will be refunded within 14 days of their final bill.If you want to know more about this campaign visit the Citizens Advice website at https://www.citizensadvice.org.uk/about-us/our-campaigns/all-our-current-campaigns/besw/ .

If you want to use the web comparison tool provided by Citizens Advice visit energycompare.citizensadvice.org.uk .

If you just want further information about your current tariff contact your energy supplier in the first instance; they are obligated to tell the truth about your current deal and must offer you a better one if one is available.

Finally, if you just want some guidance on switching – or saving money on your energy bills in other ways – visit your local independent advice agency, or ask about energy switching at your local council.

'Check – Switch – Save'