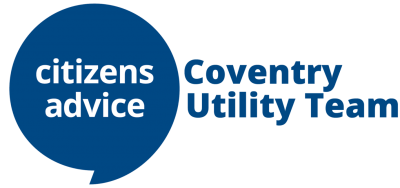 Working through several different projects, our Utility Team is able to help consumers in Coventry by offering energy and water advice such as energy saving, tariffs and schemes. We will also support people who are having difficulty paying their energy bill or other debts.
The service offers free, independent, confidential and impartial advice over the phone and face to face. 
Find out more below about the specific projects that the Utility Team are involved in to help reduce utility bills for clients.  And download our utility brochure, packed full of hints and tips to save money on your utility costs.
Get help with your energy services
If you sign up to your supplier's and network operator's Priority Services Register (PSR), you can get extra help and support with your energy supply.
YOU CAN SIGN UP IF YOU:
are a pensioner
are disabled or chronically sick
have a long-term medical condition
have a hearing or visual impairment
live with a child under 5 – some suppliers and all network operators offer help in this situation
YOU CAN ALSO SIGN UP IF YOU'RE IN A VULNERABLE SITUATION, EVEN IF IT'S ONLY TEMPORARY. FOR EXAMPLE IF:
you can't understand your bill because of a mental health condition
you can't get to the shop to top up your electricity meter because of an injury
you've been bereaved and want a friend to deal with your bills and meter readings
IF YOU'RE ON THE PSR, YOU COULD GET:
protection from cold callers with a password protection scheme to keep you safe
your pre-payment meter moved free of charge if it's hard for you to use or read the meter
a free quarterly meter reading if you can't read your meter
bills and information about supply interruptions sent to a relative, carer or friend to help you check them
bills, meter readings and information about supply interruptions in braille, large print, audio tape, textphone or typetalk if you're visually impaired
advance notice if your supply is going to be interrupted
priority support if your supply is interrupted
alternative facilities for cooking and heating if your supply is interrupted
extra help to use your meter or appliances
automatic compensation if your electricity supply is interrupted
help to understand what support you can get if your first language isn't English