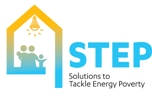 Solutions to Tackle Energy Poverty (STEP) is an EU funded 3 year project which will deliver advice and support to clients in the UK to address fuel poverty through partnership working.
STEP's overall aim is to reduce fuel poverty by encouraging people who are in or at risk of fuel poverty to make low-cost, energy efficiency driven changes to their energy use through providing trusted advice tailored to their needs.
There are 3 specific goals:
To get consumer groups and frontline organisations, who advise people on a range of issues, such as financial or health-related problems, to partner to deliver advice and guidance to fuel poor consumers.
To help fuel poor consumers across Coventry save energy and improve their living standards. We will advise people on more efficient energy consumption and how this can help them save money and improve their health and well-being. We will carry out information campaigns, provide tips on how to save energy, demonstrate cost savings and help put in place low-cost energy efficiency measures.
To identify best practices that can reduce fuel poverty and encourage them to be copied in other project participating EU countries.
To find out more about the project and to see details of the impact the project has, please sign up for our newsletter here.
What does this mean locally?
On energy, Citizens Advice provided face-to-face energy advice to 41,000 clients and reached a further 100,000 consumers nationally by training frontline workers to provide energy advice. This project will be delivered by three leading local Citizens Advice offices – Reading, Manchester and Coventry – with support from Citizens Advice nationally.
Coventry Citizens Advice, in partnership with Citizens Advice Manchester, Citizens Advice Reading and the national Citizens Advice energy team, will offer:
Face to face appointments to help people reduce the cost of their gas and electricity.
Workshops with consumer groups to help people understand how to cut the cost of their gas and electricity.
Training to frontline workers on how to give energy advice to their client groups.
These training modules for frontline workers will deliver:
Knowledge about the energy sector
Knowledge about the social welfare support system and poverty
How to identify consumers in energy poverty
How to refer people to STEP energy advisors
National and local mechanisms and support possibilities for consumers
How energy contracts affect consumers in energy poverty (tariffs, supplier switch, transparent bills) – consumer rights
For more information on the STEP project, or to register your interest for training, please contact Chris O'Neill on:
CO'Neill@coventrycab.org.uk or call 02476 252026
For more information regarding the wider services offered by Coventry Citizens Advice Utilities team:
Please visit /project/coventry-utility-team/